Speech and Debate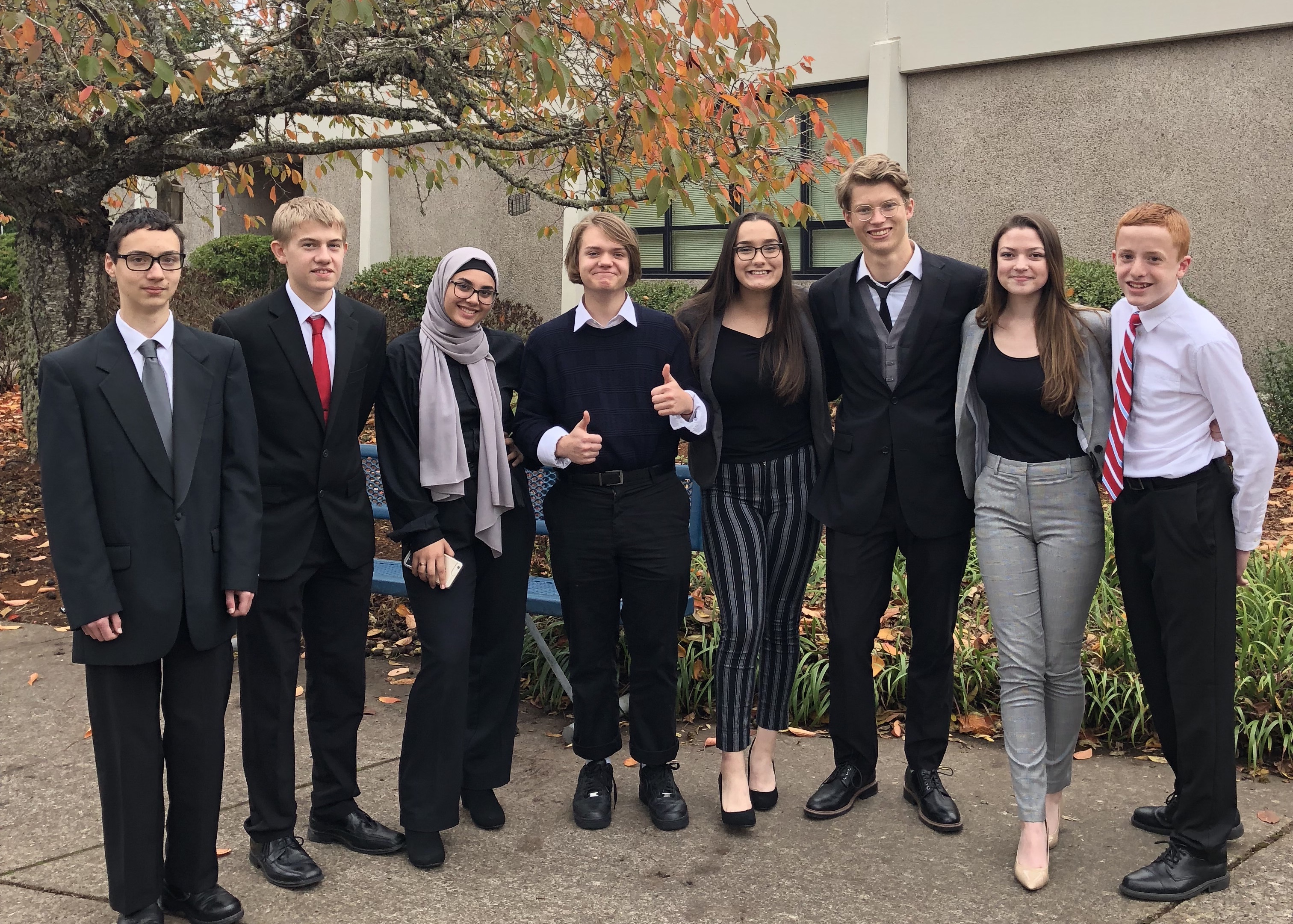 The first speech and debate competition was November 3rd and it kicked off the season! Speech and debate has officially started their 2018-2019 season. Their first debate was on November 3rd and took place at Sprague High School in Salem. This year, Senior Emily Basler and Junior Mercedes Ferris are the captains and Ms. Gerst is the coach. Practices for the speech and debate team are held on Tuesdays and Thursdays in S235 right after school from 3:30 to 5:00pm.
Ms. Gerst, captain Emily Basler, and co-captain Mercedes  Ferris shared some information about the first speech and debate competition.
The team did not get a trophy or certificate at their first competition but they still had a good time and a good first competition. "It went great, we didn't win anything, but we went to Sprague High School in Salem… We went down on a bus and we traveled with Glencoe High School and we competed in debate… and we didn't win any certificates or trophies but we still had fun," stated Ms. Gerst.
The seniors got to be judges in the competition so Ms. Gerst also shed light on the experience two of the upperclassmen had at the the competition, "then my senior kids, Megan Nall-Cook and Emily Basler…because they are seniors, they were able to judge, so they got to judge novice, new kids, so that was really good for them."
Emily Basler also said that she really enjoyed judging the competitions as well and that being able to judge is something that she doesn't get to do very often.
"I didn't actually compete in the first competition, as it was debate only. I focus more on individual events. Though this tournament was special in the sense that they allowed seniors to be judges. This never happens, judges are typically other speech and debate coaches or parents. So, at this tournament I judged. It was really interesting to see the other side of a tournament. I had a blast listening to parliamentary debates."
The co-captain of the team, Junior Mercedes Ferris, competed in the tournament and she also shared some of her experience.
Mercedes competed in parliamentary debate with her partner Zeb Smith, "I competed in parliamentary debate, basically you have fifteen minutes to prepare a topic in this unpracticed debate. I did three rounds with my partner Zeb and it went all day. We started at 8:30 am and went till about 7:00 pm. It was really fun."
Mercedes also shared information about what the debate topics usually include. They usually have topics that are about society and politics.
"We debated a lot about federalism, so a lot of the debate topics we get are going to be political or are like social or economic or just like in general about our society. I recall that one of the debates was about prescription drugs, one of them was about education, the other one was about just federalism in general."
Mercedes also talked about some different types of competitions and the events she participates in. Debate is not her usual event, as she usually participates in poetry. "It was a debate tournament, usually we have a debate and I.E. tournament. I.E. is individual event which is like more creative types of speech like poetry, humorous interpretation, dramatic interpretation… all different types.  I do poetry as my main event, and I do parliamentary on the side."
For individual events the students practice and work on their speeches to perfect any minor mistakes so that they can be prepared for the competitions. In competitions, they have to give their speeches three or four times in a tournament  in order to advance to as far as possible.
Ms. Gerst gave some insight on how debate competitions typically work. "Competitions usually include both individual events and debate that the student practice for. They usually do three to four rounds of whatever their event is."
Debates are run a little bit differently, the students go round by round, just like individual events but there are wins and losses for each round, and your wins and losses determine if you advance or not. Also, for each round of you get different topics that you debate with another team about. "With debate it's just a win or loss, you either win the round or you lose the round and depending on how many wins and losses you have, you go to quarter finals, semi-finals, and finals." Ms. Gerst said.
The team has been doing a lot of fundraising as well, and have many new members. They continue to bond and build camaraderie through doing those fundraising events.
Ms. Gerst explained an overview the season during the interview. "The first one is a student congress on the 27th of November, but that's just after school. The next big tournament is December 1st which is in Clackamas. Absolutely we are excited! We are getting ready to design the t-shirts and we just did the phone-a-thon to help raise money and I believe we made 500-some dollars. We're excited, every year is exciting and different. We lost a lot of seniors last year so we're rebuilding. I think I had like thirteen seniors graduate last year, so this year I won't have as many seniors but we are starting all over, we're rebuilding the team."
Emily Balser expressed her excitement for this new competition season. The team will be heading to more competitions in the winter.
"We have a few tournaments during the fall, but the majority of them happen in the winter. Our next tournament is at Cleveland High School and Clackamas High School. This is the largest tournament in the state and is referred to as the Holiday Edge. All tournaments are really fun, and I look forward to attending any of them."
"Since I am a senior, I am focused on enjoying them as much as possible, and doing the best that I can. We are also getting speech and debate t-shirts, and I am stoked about them!"
Mercedes shared her final thoughts and excitement about the upcoming season. "Actually, I'm super excited for the upcoming season. I think it was a little bit of a bumpy ride trying to get the team together this year. Last year team was not very big, and this year we've grown in numbers which is really fun and I think we have a really good group of kids this year they seem to really love debate."
The speech and debate team seems to be looking forward to the season that just kicked off! We wish them good luck and we can not wait to see what they will accomplish this season!
---
---